The BRIGHT Program: Innovative Hospital Partnership Serves Injury Survivors and Provides Training to Trauma-Track Psychology Ph.D Students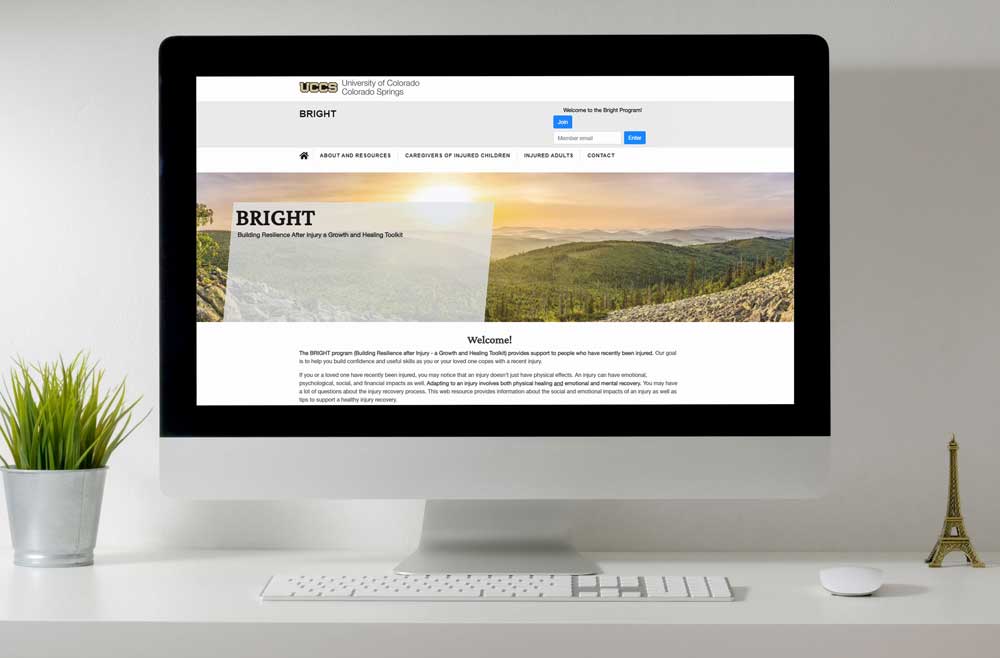 Monday, May 2, 2022
by Tim Doenges, Ph.D.
The Lyda Hill Institute for Human Resilience has developed an innovative partnership with UCHealth Memorial Hospital, a Level 1 trauma center, to build the BRIGHT program. Funded through a generous grant from the Colorado Springs Health Foundation, the BRIGHT program is an acute mental health support service for survivors of injury. The risk for PTSD, depression, and anxiety is elevated for survivors of injury, and these injury survivors encounter many barriers that prevent them from seeking mental health support in the acute phases of injury recovery. The BRIGHT program works to lessen the impacts of these barriers and meet patient needs by providing services both while patients are hospitalized and after discharge. Trauma-track psychology Ph.D. students meet with injury survivors in the hospital, providing brief supportive interventions and offering follow-up support contacts. After hospital discharge, the BRIGHT team engages in outreach, providing patients with support, psychoeducation, and information about treatment options. Patients who desire, can receive brief, no-cost therapy services to support their stabilization and recovery after the injury event. This program model offers injury survivors continuity of support as they face the challenges of a traumatic injury, hospitalization, discharge, and adaptation to their injury and its psychological impacts.
In addition to providing needed mental health services to injury survivors, the BRIGHT program provides innovative training experiences to the trauma-track psychology Ph.D. students at UCCS. These students, who are being trained to be the next generation of trauma experts, gain experience with acute trauma reactions and the risk screening and intervention models used in this early stage of trauma reaction. Students also gain experience with integrated, interdisciplinary care through their collaborative work with hospital social workers, behavioral health clinicians, trauma services personnel, and medical staff. This experience in a busy Level 1 trauma center provides students with a first-hand view of hospital programming and patient care experiences, and their presence in the hospital fills a need for trauma expertise that the hospital greatly appreciates.
One injury survivor who completed the program said the following: "Without BRIGHT and the opportunity to get help, I don't know where I would be. I didn't know how much of a blessing it was until a couple of sessions in and I saw myself beginning to change. The process BRIGHT uses is amazing. The skills were simple to learn and easy to use and made a tremendous amount of impact on how I view good, bad, and traumatic situations. Once I was taught the skills and used them, all of those things were easier to deal with. I am forever grateful."
Several exciting developments are on the horizon for the BRIGHT program. Starting in June 2022, students will be embedded with the UCHealth Memorial behavioral health team. This will facilitate enhanced training for the student team and will also deepen the program's collaboration with behavioral health and social work staff at the hospital. Additionally, the BRIGHT team and hospital staff are collaborating to develop a standardized population-based trauma screening process for injury survivors in the hospital. This will enhance the referral process to include not only patients with immediate mental health needs, but also patients who are at risk for later development of a trauma reaction or other mental health condition stemming from their injury event. The BRIGHT program is one of several local partnerships that deepens the relationships between the Lyda Hill Institute for Human Resilience and the local community in a way that expands the knowledge base of trauma psychology, and also meets an important need in the local population.
To learn more about the BRIGHT program, you can visit the official website here.