CREATE: Cultivating Resilience and Empowering Adaptation Through Expression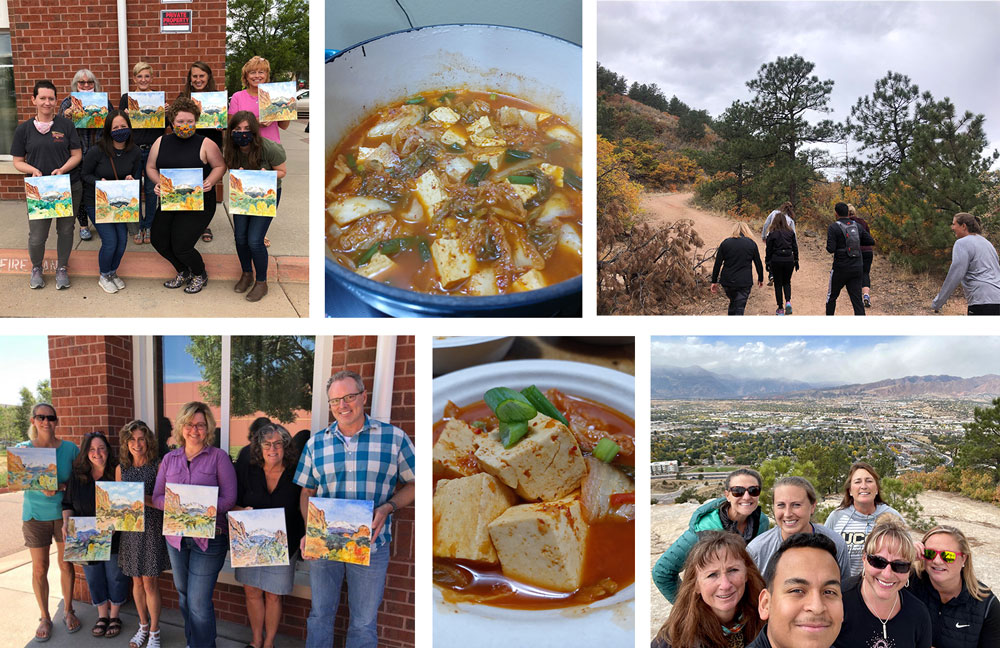 Monday, October 18, 2021
by Lisa Decker
With funds allocated by the CU President, the Lyda Hill Institute for Human Resilience at UCCS (the Institute), in collaboration with UCCS faculty and staff, and local community artists, launched a campus-wide initiative called CREATE: Cultivating Resilience and Empowering Adaptation Through Expression. CREATE, developed by the Institute and informed by UCCS faculty and staff, offers a wide range of FREE opportunities aimed at building community and fostering lifetime resilience within our UCCS faculty and staff. Current and future CREATE offerings include introductory artistic experiences, resilience-based workshops, indoor and outdoor group activities, and facilitated discussions/support groups. The introductory round of CREATE experiences has included: "Watercolor: Gateway to Garden of the Gods" and "Cooking: Four Pasta Sauces with San Marzano Tomatoes and Asian Soups." In the coming months, a variety of experiences including soap-making, pottery, and photography will be offered, along with other favorites returning in the spring! "We are listening to our faculty and staff who continue to inform our offerings, and the CREATE team is currently exploring options to integrate family-friendly programming in the future," says Lisa Decker, Clinician and Clinical Research Professional at the Lyda Hill Institute for Human Resilience - Veterans Health and Trauma Clinic.
The CREATE program originated at the Veterans Health and Trauma Clinic (VHTC), which is part of the Healing division of the Institute. When discussing the program, Clinical Director of VHTC, Kathryn Dosch says "I wanted to offer support and programming to our faculty and staff here. I feel like it is our responsibility to take care of our home team, and we needed to offer opportunities for people to build resilience and start new healthy patterns after this very hard year of COVID." Dosch then turned to her leadership team, Erin Fowler and Lisa Decker, experienced clinicians who have been with VHTC since 2014. Dosch says "I asked Lisa and Erin to help me build something that would make this vision a reality." Elaborating further, Dosch says, "Erin's work engaging local community artists to offer creative programming for Veterans has set the stage for us to have access to a lot of talented professionals to draw from for CREATE. Erin did initial outreach to the artists and linked them to Lisa who has now assumed responsibility for the launch of this initiative." Erin is also credited with coming up with the acronym, CREATE, which the team unanimously embraced.
The CREATE team is committed to offering a broad and varied range of activities to meet the interests and needs of all faculty and staff. "Lisa and I have followed up with other leaders from UCCS to get more involvement from other members of campus to spread the word and the work," Dosch adds. So far, CREATE has attracted the interest of multiple other campus departments and groups willing to collaborate with us on the initiative, including the Center for Active Living (CAL). CAL Director, Paige Whitney and her team have agreed to host both indoor and outdoor activities related to the CREATE program, and recently launched a series of nature walks for the month of October. The walks are a great way for faculty and staff to come together, get some fresh air, and enjoy the natural beauty of our trail system on the UCCS campus.
Initial feedback of the CREATE program has been overwhelmingly positive. According to Decker, "We have had over 100 people register so far for our event offerings and 100% of survey respondents have rated their experience 5 stars and would recommend the program to others. I love to hear that people are having an amazing time and loads of fun. Truly, this is one of the most impactful projects I have ever led, and knowing that these experiences are reducing stress, increasing connectedness, and bringing joy to our UCCS Mountain Lion Community is very rewarding."
Additional information about current and future offerings from the CREATE program can be found on the program webpage here.
Participant Quotes
"What a lovely day at Watercolor. I'm going through a stressful period and this was a good escape for a few hours. Thank you."
"This was a FANTASTIC few hours of self-care."
"Please keep these opportunities coming. It was nice to meet other people from UCCS with like-minded hobby interests in a casual environment. So nice to use my right brain!"
"I also would like to thank you and UCCS for making this opportunity available to faculty and staff. It is indeed a wonderful and refreshing initiative!"
"This was truly a great experience—from the social and interpersonal connection aspect to the workshop and activity itself, it had a very positive impact on me. Thank you!!!"
"Watercolor was WONDERFUL! I'm going to try to scrap together funds to be able to continue to learn. I cried in my car afterwards, having so much joy and not having been able to experience a few hours of just creating. I have started to do art at home, but I found the lesson itself to be even better and now I crave more chances to learn and to be good at something again. Thank you!"
"I work 7 days a week usually 10 hours a day (I try to work about 3-5 on Saturday as my 'day off'). This is the most wonderful thing that UCCS has created for us. I had a WONDERFUL time on Saturday, and it was just what the doctor ordered--I didn't think I could turn my brain off since I'm in high anxiety mode usually, but amazingly I did. I didn't think about, nor was I worried about work for the entire time I was there. That is huge! I was even more able to relax the rest of the day and just allow myself to NOT work at least that one day out of the week."
"After being shut down with COVID for so long and life being weird altogether, I can't believe how much I've missed being around other people in such a fun relaxing way. The food was superb, getting to meet others from UCCS was so fun, and just doing something new and not routine truly made a difference. And now I know of a new business in town that I'll continue to support. It truly added some fun making this one of the newest best perks to being a UCCS employee. Your classes fill up way too fast and that would be my one thing to add as a comment!"
"This was superb. Absolutely superb. I'm so grateful to UCCS to offer these experiences. It is much needed."