Embracing Resilience Through Art: The Arts & Resiliency Gathering at UCCS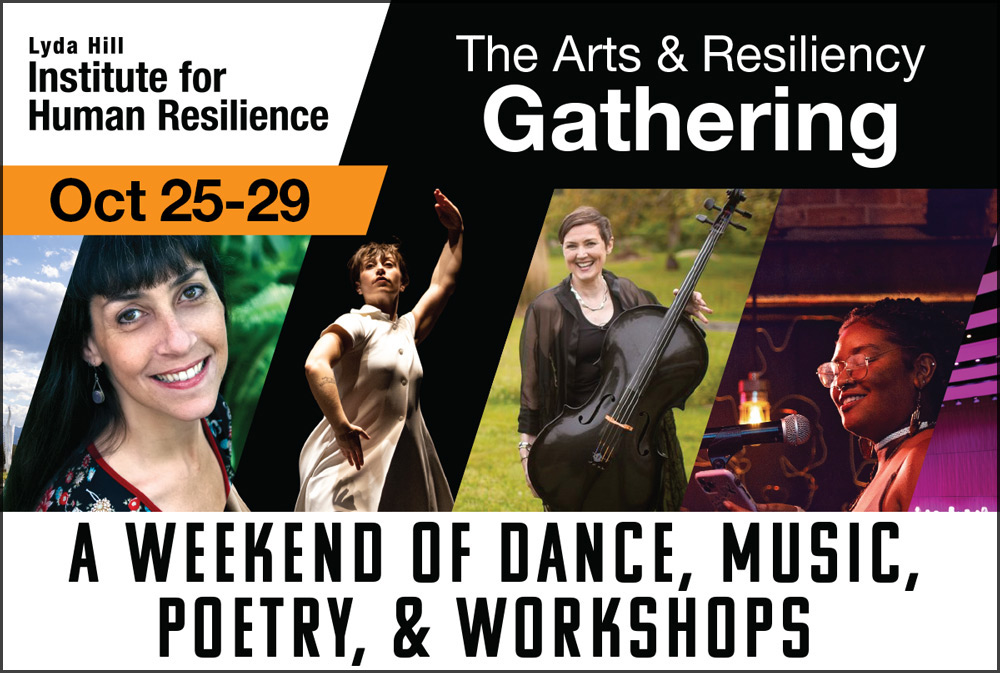 Monday, October 2, 2023
by Gabe Taylor
From October 25th through 29th, something truly remarkable is happening at UCCS. The Lyda Hill Institute for Human Resilience in collaboration with the Visual and Performing Arts department at UCCS and other partners will host the Arts & Resiliency Gathering. Uniting acclaimed artists from a variety of artistic disciplines and geographical locations, the event is designed to promote resilience and community well-being. The gathering will feature live performances and workshops by acclaimed artists including David Dorfman Dance, cellist Stephanie Winters, music therapist Katie Down, and others.
Fostering Community Well-being
The Arts & Resiliency Gathering is a visionary event that transcends the boundaries of traditional art exhibitions and workshops. While it is open to all, its core mission revolves around direct engagement with marginalized communities. Specifically, the LGBTQ+, Veteran, military, people with disabilities, healthcare, and caregiver populations in the Colorado Springs region will be the focus of its attention. By using art as a means of connection and healing, this gathering aims to make a profound impact on the lives of these individuals.
The Power of Performances
One of the highlights of the Arts & Resiliency Gathering is the series of captivating concerts. These performances provide a soothing and invigorating outlet for attendees to immerse themselves in the world of sound, movement, and expression. Through innovative presentations, these concerts beckon audiences to explore their dreams and discover beauty in the mundane aspects of everyday life. More importantly, they provide an avenue to cultivate empathy and well-being for oneself and others, nurturing the bonds of community.
The Importance of Workshops
An important aspect of the gathering lies in its workshops, where the community has the opportunity to delve into various art forms under the guidance of guest artists trained in trauma and resiliency methods. These workshops, designed with the principles of diversity, equity, inclusivity, and belonging at their core, are carefully crafted to instill care, curiosity, and playfulness in participants. Whether it's through poetry, movement, photography, sound baths, or song, attendees are encouraged to express their stories and engage in deep listening.
The workshops at the Arts & Resiliency Gathering empower individuals to listen not just to the external world but also to their bodies, histories, and environment. By doing so, they strengthen not only themselves but also the connections they share with their fellow community members. It's a transformative experience that goes beyond the canvas or stage, fostering growth and resilience in all aspects of life.
A Diverse Lineup
The Arts & Resiliency Gathering boasts an impressive lineup of artists and performers. Evening performances will feature the renowned David Dorfman Dance, the soul-stirring Cellist Stephanie Winters with Chris Rosser, and talented Music Therapist and Performer, Katie Down. These artists promise to create enchanting, unforgettable moments for the audience.
Workshop instructors include David Dorfman Dance, Cellist and Productivity Coach, Stephanie Winters with Chris Rosser, Music Therapist and Performer, Katie Down, Poet Laureate, Ashley Cornelius, and Freelance Photographer, Robert Gray. Their expertise, combined with their dedication to promoting resilience and well-being, promises a truly enriching experience for all participants.
To conclude, the Arts & Resiliency Gathering is a testament to the transformative power of art in fostering well-being and community resilience. This unique event, sponsored and funded by esteemed institutions and partners, will showcase the potential for art to heal, inspire, and connect. Whether you're an artist, a performer, or simply someone looking to explore the depths of human resilience through creativity, this gathering is an opportunity not to be missed. It's a celebration of the human spirit, a testament to the healing power of art, and a commitment to building a more resilient and connected community.
The Arts & Resiliency Gathering is supported in part by the National Endowment for the Arts, the Lyda Hill Institute for Human Resilience at UCCS, and Visual & Performing Arts – UCCS. Additional contributors include Greenbox Arts Festival, Inside Out Youth, The Independence Center, the Cultural Office of the Pikes Peak Region, and the Colorado College Creativity & Innovation Office.
Tags: Newsletter October 2023, News