The Epidemic of Loneliness: An Urgent Call to Address the Surgeon General's Advisory on Loneliness and Isolation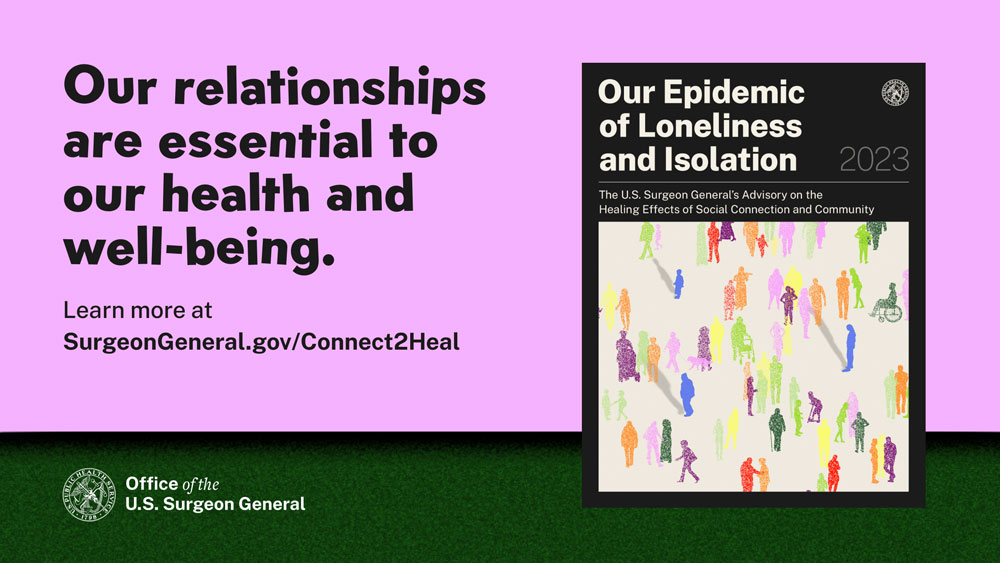 Wednesday, May 3, 2023
According to the U.S. Surgeon General, Dr. Vivek Murthy, loneliness and isolation have become a public health epidemic in the United States. In his recent advisory, titled "Our Epidemic of Loneliness and Isolation: The Surgeon General's Advisory on the Healing Effects of Social Connection and Community," Dr. Murthy emphasizes the importance of fulfilling connections as a critical and often underappreciated contributor to individual and population health, safety, prosperity, and well-being.
The advisory warns of the public health threat that loneliness and disconnection pose to the American public, citing research that indicates approximately half of U.S. adults experience measurable levels of loneliness. Lacking social connection has serious health consequences, including increased risk for coronary heart disease, stroke, diabetes, depression, anxiety, and premature mortality.
To address this issue, the Surgeon General gives a series of key recommendations for both individuals and organizations to strengthen social connection and community. These recommendations include prioritizing social connection and community as part of individual and organizational well-being, practicing empathy and active listening, investing in community infrastructure and support systems, and fostering a culture of inclusivity and belonging.
At the Lyda Hill Institute for Human Resilience, we recognize the importance of social connection and community in building resilience and promoting well-being. We urge our friends and colleagues to read the Surgeon General's advisory and consider amplifying its message to promote action on this urgent public health issue.
Director of Engagement at the Office of the U.S. Surgeon General, Katie Dealy reminds us that human connection is a fundamental human need as essential to survival as food and water. Our relationships are a source of healing that can help us live healthier and more meaningful lives. Let us work together to protect the health and safety of our nation by strengthening our connections and fostering a sense of community and belonging.
You can read the full advisory on the Health and Human Services website at https://www.hhs.gov/surgeongeneral/priorities/connection/index.html?utm_source=osg%5b%E2%80%A6%5dtm_medium=osg_partnerpress&utm_campaign=osg_connection_partners. It includes a fact sheet on loneliness, isolation, and social connection that summarizes the advisory's key recommendations and provides data on the health effects of lacking social connection.
Additionally, if you would like to amplify this important issue on social media, you can access high-res graphics for social media posts at https://app.box.com/s/s2t24d85bkfnbjx841ikyrlxczstd8ib.
In case you missed it, Dr. Murthy released an Op-Ed in the New York Times sharing his personal perspective on this issue, which you can read at https://www.nytimes.com/2023/04/30/opinion/loneliness-epidemic-america.html.
Tags: News