Lyda Hill Institute for Human Resilience Selected as Finalist for Phi Kappa Phi Excellence in Innovation Award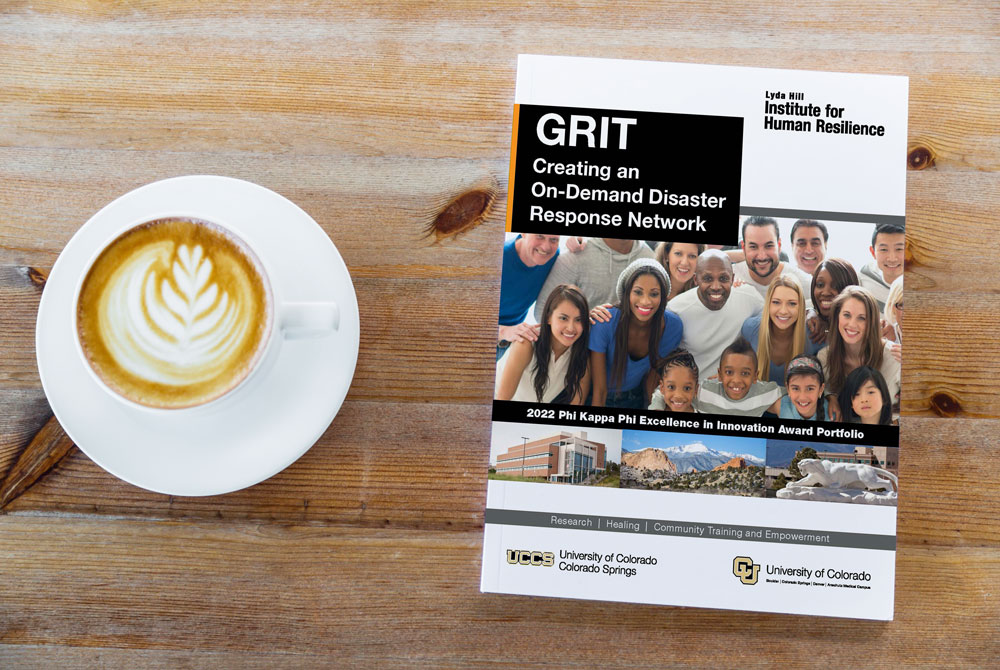 Monday, May 2, 2022
by Nicole Weis, Director of Community Training and Empowerment
Earlier this year, the Lyda Hill Institute for Human Resilience (the Institute) was notified that our GRIT (Greater Resilience Information Toolkit) program had been nominated for the Phi Kappa Phi Excellence in Innovation award and was one of six semi-finalists! The Honor Society of Phi Kappa Phi established its Excellence in Innovation Award to recognize achievements from colleges and universities working to find powerful answers to important local, regional, national, or global challenges. Every two years, the Phi Kappa Phi Excellence in Innovation award, valued at $100,000, is given to an institution that demonstrates best practice in implementing and assessing innovative programs or services, uses innovative and substantive solutions to achieve meaningful, measurable outcomes to improve the lives of others and create systemic large-scale change, and has a sustained model program or service that both demonstrates transformative results and reflects the values of Phi Kappa Phi. The Institute is incredibly honored to be a semi-finalist for this prestigious award, alongside fellow semi-finalists Ball State, Boise State, Longwood University, Pittsburg State, and the University of North Georgia.
To move on to the finalist selection, the Institute team created a portfolio detailing the creation, implementation, and achievements of the GRIT program. Within the portfolio, the team highlighted the innovative intention behind the GRIT program in harnessing the power of natural social support networks in contrast to the often-limited crisis counseling program, a short-term relief program that takes several months to initiate and often ends within 9 months. Since the creation of GRIT in April 2020, thousands of people around the world (46 states and 19 counties) have signed up for GRIT training, exponentially expanding support around the world. Four countries (Australia, India, Japan, and Puerto Rico) are also adapting the GRIT program to their own cultures and languages.
The Phi Kappa Phi portfolio also highlighted our commitment to making the GRIT program as effective as possible and basing it on empirical evidence. In Fall 2020, the Institute conducted a community-wide survey of 580 community members, 44 of whom had participated in GRIT training. In comparing the GRIT Coaches with non-GRIT coaches, results showed the benefit of GRIT training. The survey showed GRIT Coaches reported significantly less depression, posttraumatic distress, and perceived stress, as well as more belongingness, less loneliness, greater resilience, and better well-being. Lastly, GRIT Coaches indicated that the training provided critical skills to help those in their social circles to be more resilient!
Lastly, the team discussed several partnerships with GRIT that we are excited to be involved in! This includes an initiative partnership with the United States Olympic and Paralympic Museum and their program "Becoming Your Personal Best" (BYPB). BYPB is a first-of-its-kind educational program available free for teachers, coaches, and adults who work with youth in any capacity. It provides essential tools to build and strengthen resilience in the lives of young people. By strategically creating points of intersection between the GRIT and BYPB programs, the Institute will multiply the impact of each program individually and can create a school to community resilience network! The Institute also recently received $396,755 of American Rescue Plan Act (ARPA) funds through an El Paso County Community Impact Grant award. This funding will empower the Institute to expand curriculum related to a broad disaster framework and expand the GRIT network in preparation for the next major crisis. The funds will also provide for the creation of a mobile phone application for community members and GRIT Coaches called GRIT-E. Having GRIT available on a smartphone will improve the ability of GRIT Coaches to effectively provide resilience support, connect with other GRIT Coaches, and offer a training platform for future skills development. GRIT-E will contain a link to the GRIT program, easy-to-access resources, a reminder of the GRIT steps and the areas of strength taught in the GRIT program, as well as helpful information such as crisis hotlines and other useful websites.
The Institute is dedicated to expanding the GRIT network, because even as the pandemic begins to wane, another mental health crisis lies in its wake. Inevitably, other natural and man-made disasters will continue to impact lives and communities. The GRIT network, bolstered by the forthcoming GRIT-E application will be in place, ready to alert and activate GRIT Coaches around the world when a disaster strikes a community, quickly spreading support, resources, and resilience!
To learn more about the GRIT program, visit the official website here.
Tags: Newsletter May 2022