Molly Higgins wins 2023 UCCS Three Minute Thesis Competition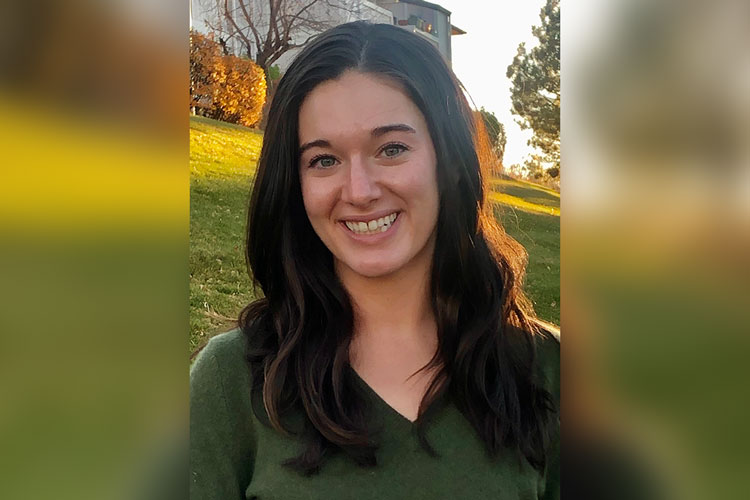 Saturday, April 1, 2023
by Dr. Heather Littleton
The three-minute thesis competition is an innovative way of showcasing graduate students' research to a diverse audience. It has gained immense popularity and is now an annual event held at more than 200 universities worldwide. The competition poses a unique challenge to students, as they have to convey the essence of their research in just 180 seconds. This challenge requires students to present their work in a concise, engaging, and comprehensible manner, making it an excellent opportunity to develop their communication skills.
The University of Colorado Colorado Springs (UCCS) held its own three-minute thesis competition in two rounds. In the first round, participants uploaded a video recording of their presentation. A panel of judges evaluated the presentations and selected seven finalists. The finalists then presented their thesis to a live audience and a new panel of judges.
Molly Higgins, a doctoral student in the trauma psychology track of the clinical psychology program, was declared the overall winner of UCCS's three-minute thesis competition. Her thesis, "Physical Activity and Posttraumatic Outcomes among Sexual Assault Survivors," was completed under the mentorship of Dr. Heather Littleton, Director of Research Operations at the Lyda Hill Institute for Human Resilience.
Molly's research focuses on the relationship between physical activity and posttraumatic stress disorder (PTSD) symptoms among survivors of sexual assault. Her work provides new insights into the potential role of exercise as an effective strategy to improve mental health outcomes for survivors of trauma. Her presentation was informative, engaging, and easy to follow, making it an excellent example of how to communicate complex ideas effectively.
As the winner of UCCS's three-minute thesis competition, Molly will now advance to the statewide competition in April. Her victory is a testament to her hard work, dedication, and ability to present her research in an accessible way. It is an excellent opportunity for her to showcase her research on a larger stage and inspire others to pursue their academic goals. You can watch Molly's winning presentation on Vimeo at https://vimeo.com/uccsadvancement/review/798895454/33cc5f672b.
Tags: Newsletter April 2023