Advancing human resilience through interdisciplinary research, healing therapies, and community training and empowerment
The Lyda Hill Institute for Human Resilience is comprised of three divisions working in synergy to address the complex mental health needs of individuals within our community, in other communities around the United States, and around the world. Through scientific discovery and strength-based innovation, the Institute empowers individuals and communities to build resilience and heal from trauma. The Institute has changed significantly since its original creation as the Trauma, Health, and Hazards Center in 2002. In March of 2020, the Lyda Hill Institute for Human Resilience was founded after receiving a generous match grant from the Lyda Hill Foundation. The Institute directly impacts the lives of close to 10,000 individuals per year through the Research, Healing, and Community Training & Empowerment divisions.  
Research
The Research division capitalizes on the synergy among different disciplines to conduct both basic and applied research focused on human adaptation from adversity. The Institute is dedicated to scientific discovery related to human resilience and innovation of care models that support the human capacity to overcome, rather than reducing survivors to a set of medical symptoms. The Institute's research has a direct impact in the development and realization of therapies that are improving the quality of life and outcomes of trauma survivors. The Institute conducts research with funding from entities such as the National Science Foundation (NSF), National Institute of Mental Health (NIMH), Department of Defense (DOD), Substance Abuse and Mental Health Services Administration (SAMHSA), Colorado Springs Health Foundation (CSHF), Colorado Department of Public Health and Environment (CDPHE), and El Paso County Public Health (EPCPH).
Healing
The Healing division provides an integrated healing experience for those seeking trauma care through an innovative approach. Also known as the Veterans Health and Trauma Clinic, the Healing division helps individuals recover from psychological challenges associated with military service, natural disaster, domestic violence, auto accidents, sexual assault, and a wide range of other mental health challenges.
Community Training & Empowerment
The Lyda Hill Institute for Human Resilience provides a variety of training, empowerment, and peer support opportunities through the Community Training and Empowerment division. From organizational peer support system development and training, to community certificate and workshops on becoming trauma-informed, to the targeted resilience-based GRIT interventions, Community Training & Empowerment teaches the skills needed to build mental health resiliency. The division currently has contracts with a variety of large employers, such as entities within the Colorado state government, healthcare providers, and a Veteran-based nonprofit organization.  
Our Mission
Our mission is to advance human resilience to adversity by designing evidence-based solutions through interdisciplinary research, healing therapies, and community training and empowerment.
Our Vision
Our vision is to serve as the national model in resilience-based trauma research, healing, and community empowerment solutions.
What is Trauma?
To learn more about trauma, click on the link below.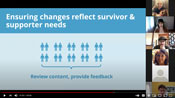 Research Seminar Series Videos
To learn more about Institute and affiliate research, you can watch past research seminars at the link below.   
Technology and Trauma
To learn more about how the Institute uses technology for trauma research, healing, and training, click the link below.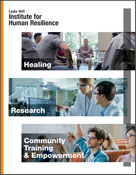 Informational Booklet
To download our informational booklet with interesting facts about the Institute, click the link below.