Voices of Grief to Host 2-day Event on Grief and Mourning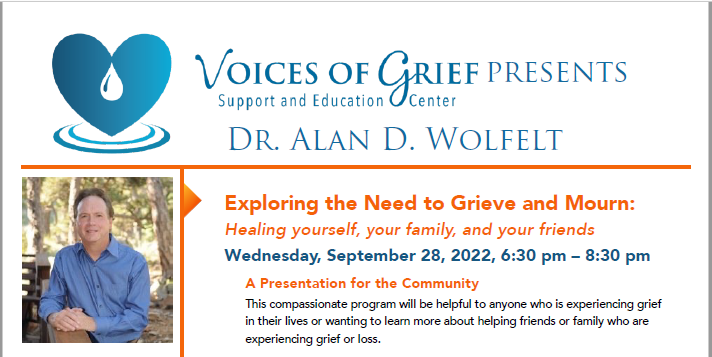 The Institue has partnered with local non-profit, Voices of Grief, for a 2-day event on grief and mourning. The event is being presented by author, educator, grief counselor, and founder of the Center for Loss and Life Transition, Dr. Alan Wolfelt. On September 28th from 6:30pm to 8:30pm, Dr. Wolfelt will speak about the need to grieve and mourn, and on the 29th, from 9:00am - 3:30pm, he will speak about the grief associated with suicide. The Threshold Choir, who sings at the bedside of individuals in hospice, will be singing at the event both days.
The presentations will be held at the UCCS Ent Center for the Arts and are open to the public. The presentation on the 28th is free, and the program on the 29th, which includes materials and lunch, costs $25. If you would like more information, you can visit the Voices of Grief webpage here. You can also download the event flyer here.
Tags: News